Donate Now

Recent Events & Photos

Making a difference in the lives of both animals and people in need
As Donations of Love, Inc. is a strictly volunteer organization, your individual or corporate gift can go a long way in helping to change the lives of animals...
View photos from some recent fundraisers and events...

Donations of Love, Inc.
1606 Grand Central Avenue #4
Lavallette, New Jersey 08735
tel: 732.793.2557
fax: 732.793.0528
We are a 501(c)(3) non-profit organization serving the Jersey Shore Area by helping the poor and distressed people as well as animals. We work to lessen the burdens of gov't; neighborhood tensions; and combat community deterioration. Super Storm Sandy affected our area greatly and we are here to help. Give to DOL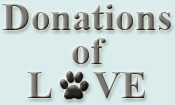 Volunteer Board of Directors:

President - Joanne LaCicero
Vice President - Elizabeth Grudus
Secretary - John Fabian
Treasurer

- Joanne LaCicero
The Buy A Board Project has ended. Thank you for your support!
The Buy a Board program in 2013 was deemed a huge success by the Borough of Lavallette and by the residents, citizens and organizations alike that donated boards to be a part of history on Lavallette's newly rebuilt boardwalk.

​​Donations of Love did not receive any part of the $250.00 cost to donate a board. All the proceeds from this fundraiser will go directly to the Borough of Lavallette to help rebuild after the devastation it sustained from Super Storm Sandy.