Donate Now

Recent Events & Photos

Making a difference in the lives of both animals and people in need
As Donations of Love, Inc. is a strictly volunteer organization, your individual or corporate gift can go a long way in helping to change the lives of animals...
View photos from some recent fundraisers and events...

Donations of Love, Inc.
1606 Grand Central Avenue #4
Lavallette, New Jersey 08735
tel: 732.793.2557
fax: 732.793.0528
We are a 501(c)(3) non-profit organization serving the Jersey Shore Area by helping the poor and distressed people as well as animals. We work to lessen the burdens of government, neighborhood tensions and combat community deterioration. Super Storm Sandy affected our area greatly and we are here to help. Give to DOL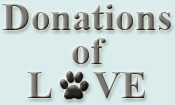 Volunteer Board of Directors:

President - Joanne LaCicero
Vice President - Elizabeth Grudus
Secretary - John Fabian
Treasurer

- Joanne LaCicero
On Sale Now! Drawing is May 22, 2015. Only 200 tickets will be sold. Click for details...